U.S. & Foreign Commercial Service Affiliate
In April of 2010 the U.S. & Foreign Commercial Service signed a unique agreement with MSU-CIBER. This agreement helps both parties to better serve export-ready companies and provide them enhanced benefits such as client counseling and overseas market assistance. Jointly we coordinate business assistance activities, programs and initiatives such as export conferences and seminars, and export education programs.
Mid-Michigan area businesses now have direct access to a Trade Specialist from the U.S. Export Assistance Center by contacting the Center. This resource will help companies to tailor export initiatives and best utilize federal resources available to them, especially those small- and medium-sized companies new to foreign markets.
Standard services offered by the Commercial Service include:
One on one export counseling
Primary market research
Gold Key Business to Business Matching Service
International Company Profiles (thorough background checks of potential business partners)
Advocacy services for U.S. firms bidding on foreign government tenders
Trade lead screening and distribution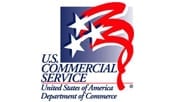 The U.S. & Foreign Commercial Service offers a range of export promotion & development services from offices in U.S. embassies and consulates in more than 80 countries. The International Business Center is proud to be the affiliate in the Lansing area. http://export.gov/michigan/